The Botterill family, originally from Manitoba, Canada, is one of the most famous hockey families in the province of Manitoba. Patriarch Cal Botterill was awarded the Sport Manitoba Award of Excellence[1] His wife, Doreen McCannell, competed for Canada in speed skating at the 1964 and 1968 Winter Olympics, respectively. The second generation, includes two siblings, Jason and Jennifer. Both have represented Canada in international tournaments. In addition, the Botterill siblings have competed in over 200 NCAA games.
First generation
Edit
Cal Botterill competed for the Canada men's national ice hockey team from 1967 to 1969. He received a PhD from the University of Alberta.[2] Currently, he is a professor at the University of Winnipeg and has also worked as a sports psychology consultant for numerous teams in the National Hockey League including, the Calgary Flames, Chicago Blackhawks, Los Angeles Kings, and Philadelphia Flyers.
Second generation
Edit
Jason Botterill was drafted 20th overall in the 1994 NHL Entry Draft by the Dallas Stars.[3] He played for the Michigan Wolverines in the NCAA and was part of the NCAA championship team of 1996. He is the only Canadian to ever win a Gold Medal in three straight World Junior Hockey Championships.Botterill managed just 5 goals in 88 games during parts of six NHL seasons with Dallas, Atlanta, Calgary and Buffalo, before retiring in 2004.[4] While competing for the Rochester Americans of the AHL, he suffered a concussion during a game against the Syracuse Crunch on October 31, 2004. On May 22, 2009, he was appointed as Assistant General Manager of the Pittsburgh Penguins.[5] Prior to the appointment, he worked two seasons with the Penguins as director of hockey administration; performing duties such as salary cap management, professional and amateur scouting and prospects development.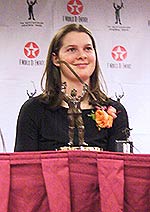 Jennifer Botterill, a member of the Order of Manitoba since 2006[6], attended Harvard University from 1998-2003 where she played hockey from 1998 to 2003. She holds the Harvard Crimson women's ice hockey career scoring record (149 goals, 170 assists, 319 points). She scored at least one point in 106 of her 107 career NCAA games (including a streak of 80 consecutive games) and became the first player to win the Patty Kazmaier Award twice as the top player in NCAA women's hockey. In the Canadian Women's Hockey League, Botterill claimed the 2007-08 Angela James Bowl after winning the league scoring title with 61 points.[7] Her last appearance with Team Canada was on February 25, 2010 at the 2010 Olympic Games in Vancouver. Her final point was also on February 25 when assisted Marie-Philip Poulin on the gold medal-winning goal.[8]
References
Edit
Ad blocker interference detected!
Wikia is a free-to-use site that makes money from advertising. We have a modified experience for viewers using ad blockers

Wikia is not accessible if you've made further modifications. Remove the custom ad blocker rule(s) and the page will load as expected.