Ad blocker interference detected!
Wikia is a free-to-use site that makes money from advertising. We have a modified experience for viewers using ad blockers

Wikia is not accessible if you've made further modifications. Remove the custom ad blocker rule(s) and the page will load as expected.
Boston Jr. Shamrocks
City:
Hingham, MA
League:
EJHL
Division:
South
Founded:
1993

The Boston Junior Shamrocks was a Junior A hockey team playing in the Eastern Junior Hockey League.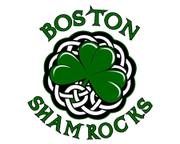 The franchise, then known as the Matt O'Neil Club, is a charter member of the Eastern Junior Hockey League (EJHL) since 1993. It played as the Matt O'Neil Club until 1996, as the Matt O'Neil Lightning from 1996 until 1998, when it changed its name to the Boston Harbor Wolves. In 2007 the team adopted the Junior Shamrocks name...The original logo of the Matt O'Neill club was a shamrock. While known as the Lightning and the Wolves the team was based out of the Charlestown neighborhood of Boston playing out of the Emmons Horigan O'Neill Rink.
In 2007 Gary Ford gained ownership of the Junior Shamrocks, relocated the team to the Pilgrim Skating Arena in Hingham, Massachusetts (about 15 miles (25km south of Boston. In their first season as the Junior Shamrocks the team went 3-40-1 finishing with only 7 points.
In the 2008-2009 season the Shamrocks had their ups and downs. One of theirs ups was defeating EJHL powerhouse the New Hampshire Jr. Monarchs 5-2 on October 10, 2008. Some their low points include a 16 to 6 loss at the hands of the Boston Jr. Bruins in November 2008 and a 16-1 loss to the New Hampshire Jr. Monarchs in January 2009.
The team was coached by former Boston College Eagle John Maclean. Maclean also is owner of Dynamic Skating in North Andover, Mass and is a former assistant coach at Merrimack College. He is also an NHL scout.
In the two years of Junior Shamrocks existence. 2008-2009 forward Rob Sorrenti goes down as the teams all time leading scorer with 14 goals and 27 assists for 41 total points.
The teams 2008-2009 All-Stars were captains Reed Hersey and Jake Lewis.
In the spring of 2009 the Boston Jr. Shamrocks were sold to an ownership group and relocated to Warminster, PA outside of Philadelphia . The team is now called the Philadelphia Revolution who competes in the Eastern Junior Hockey League, The Empire Junior Hockey League, and the Continental Hockey Association.
Rob DeMarco 1994-1995
Season-by-season results
Edit
Season
GP
W
L
T
OTL
GF
GA
P
Results
Playoffs
Matt O'Neil Lightning
1993-94
-
-
-
-
-
-
-
-
EJHL
1994-95
-
-
-
-
-
-
-
-
EJHL
1995-96
-
-
-
-
-
-
-
-
EJHL
1996-97
-
-
-
-
-
-
-
-
EJHL
1997-98
-
-
-
-
-
-
-
-
-
Boston Harbor Wolves
1998-99
37
1
36
0
-
78
241
2
9th EJHL
1999-00
40
9
29
2
-
135
195
20
10th EJHL
2000-01
-
-
-
-
-
-
-
-
-
2001-02
38
6
32
0
0
77
200
12
6th EJHL North
2002-03
38
12
24
1
1
129
172
26
4th EJHL North
2003-04
38
14
22
2
0
107
141
30
4th EJHL North
2004-05
52
7
41
1
3
98
243
18
7th EJHL North
2005-06
45
7
33
2
3
102
197
19
7th EJHL North
2006-07
45
2
40
0
7
96
241
7
7th EJHL North
Boston Jr. Shamrocks
2007-08
45
3
40
1
0
62
252
7
7th EJHL North
External links
Edit