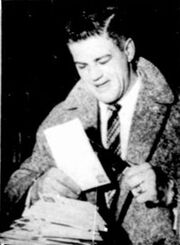 Boris "Bo" Elik (born October 17, 1929 in Geraldton, Ontario) is a retired Canadian ice hockey left winger. He played in the NHL for the Detroit Red Wings.
Elik played six seasons of senior hockey for the North Bay Black Hawks and North Bay Trappers from 1950 to 1956. In 1956-57 he made the jump to the American Hockey League (AHL)'s Cleveland Barons and won the Dudley "Red" Garrett Memorial Award as outstanding rookie. He scored 40 goals and 40 assists.
After five more AHL seasons Elik got a chance with the Red Wings in 1962-63, playing three games with no points. He finished the season with the Edmonton Flyers and retired.
References
Edit