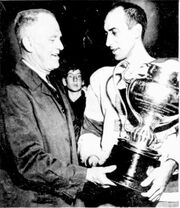 The Bolton Cup was awarded to the Eastern Canadian Champion of the Allan Cup playdowns until 2003. It became the Atlantic Region Championship trophy starting in 2004. It has not been awarded consistently since 2003 due to the degeneration of Senior hockey in Quebec and the Maritimes and the subsequent restructuring of the Allan Cup tournament itself had rendered the Bolton Cup obsolete as the Eastern Canada championship and made it the Atlantic Canada championship trophy.
There has been a revival in senior AAA hockey in Newfoundland and Labrador with the formation of the Newfoundland Senior Hockey League in 2011. Several teams have also registered for Senior AAA level play in New Brunswick starting in 2015. Quebec (which still has no registered AAA teams as of 2017) and Atlantic Canada now have their own qualifying regions for the Allan Cup. The spot for the Quebec champion has been traditionally given to another team from the host teams region.  It is unknown when the trophy was officially first awarded. 
After the 2003 Allan Cup the qualifying set up was changed. Ontario, Quebec and Atlantic Canada were each given their own qualifying spots. Quebec and Ontario already had provincial championships set up and the Bolton Cup became the regional qualifying trophy for Atlantic Canada. As of 2017 the event has only been held two or three times (2005 uncertain if event happened) to determine an Atlantic Regional qualifier for that year's Allan Cup tournament. The region has had either no teams or only one team competing at the Senior AAA level in many of the seasons and the region has hosted the Allan Cup twice with other regions not competing and having additional Atlantic Region teams qualifying for the Allan Cup tournament with out the need for the Regional qualifier.
note: Teams in italics were region representative at that year's Allan Cup and not winners of Bolton Cup; teams in Bold won a regional qualifying series.
The 2005 event may not have taken place as the Brudenell Rangers may have folded earlier in the season; they were the only other registered Senior AAA team in the region for 2004-05 season
Teams marked with * won the Allan Cup that year
Ad blocker interference detected!
Wikia is a free-to-use site that makes money from advertising. We have a modified experience for viewers using ad blockers

Wikia is not accessible if you've made further modifications. Remove the custom ad blocker rule(s) and the page will load as expected.