Ad blocker interference detected!
Wikia is a free-to-use site that makes money from advertising. We have a modified experience for viewers using ad blockers

Wikia is not accessible if you've made further modifications. Remove the custom ad blocker rule(s) and the page will load as expected.
Honoured Member of the Manitoba Hockey Hall of Fame - Media Category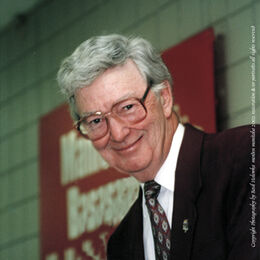 Born: September 24, 1932
Position: Sportswriter


grew up in Winnipeg's North End... while in high school got his first chance at sports reporting with the Winnipeg Citizen where he covered midget and juvenile hockey... recruited to serve as secretary of the Winnipeg midget hockey league where he spent five seasons... in 1965 joined CJOB Radio as sports director and did play-by-play on Winnipeg junior Jets and Canada's National Team broadcasts... moved to CBC where he worked in both radio and TV... covered the birth of the Jets in the WHA and into their NHL days... ensured that Manitoba leagues as well as interprovincial playoffs such as the Allan, Memorial and Hardy Cup received coverage... named to the Manitoba Sportswriters and Sportscasters Media Roll of Honour.
Awards & Achievements
Edit
inducted into the MSSA Media Roll of Honor
"Honoured Member" of the Manitoba Hockey Hall of Fame
"Honoured Member" of the Manitoba Curling Hall of Fame
"Honoured Member" of the Manitoba Football Hall of Fame
"Honoured Member" of the Canadian Football Hall of Fame (1992)
"Honoured Member" of the Manitoba Baseball Hall of Fame (2002)
"Honoured Member" of the Canadian Curling Hall of Fame (2004)
"Honoured Member" of the Manitoba Golf Hall of Fame (2010)