Robert Frank Nevin (born March 18, 1938 in South Porcupine, Ontario, Canada) is a former professional right wing who played 18 seasons in the National Hockey League between 1957–58 and 1975–76.
He won the Memorial Cup in 1956 with the Toronto Marlboros. In 1958 he turned professional and spent two seasons in the minor pros.
Nevin scored 21 goals as a rookie with the Toronto Maple Leafs in 1960–61, and finished second in the Calder Memorial Trophy voting to teammate Dave Keon. He shared a line with Red Kelly and Frank Mahovlich helping the Maple Leafs win the Stanley Cup in 1962 and 1963. In 1964 Nevin was traded to the New York Rangers alongside four other players in exchange for Andy Bathgate and Don McKenney. He served the Rangers for seven years until he was traded to the Minnesota North Stars for Bobby Rousseau. He also played for the Los Angeles Kings where he recorded a personal best 72 point season and led the Kings to a franchise record 105 points.
Following his time with the Kings, Nevin would head to the Edmonton Oilers of the WHA in 1976-77. He retired following thirteen games with the Oilers after breaking his collarbone. Nevin finished the season as an assitant coach for the Los Angeles Kings.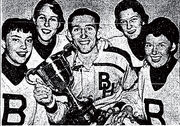 Nevin played 1128 career NHL games, recording 307 goals and 419 assists for 726 points.
References
Edit
Ad blocker interference detected!
Wikia is a free-to-use site that makes money from advertising. We have a modified experience for viewers using ad blockers

Wikia is not accessible if you've made further modifications. Remove the custom ad blocker rule(s) and the page will load as expected.