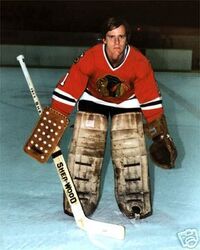 Bob Janecyk (b. May 18, 1957 in Chicago, Illinois) is a retired American professional ice hockey goaltender who played 110 games in the National Hockey League for the Los Angeles Kings and Chicago Black Hawks.
He played with Chicago State University from 1975-79. Undrafted by the NHL, he signed as a free agent by the Chicago Blackhawks.
Janecyk played for four seasons in the minor pros, winning top goalie awards in 1979-80 and 1981-82. He finally got a chance with the Blackhawks in 1983-84, appearing in 8 games that season.
In 1984 Janecyk was traded to the Los Angeles Kings and became a regular for two seasons. But his ice time was reduced as the Kings accquired Darren Eliot to back up Roland Melanson. After a couple of seasons with the New Haven Nighthawks Janecyk retired in 1989.
External links
Edit
Ad blocker interference detected!
Wikia is a free-to-use site that makes money from advertising. We have a modified experience for viewers using ad blockers

Wikia is not accessible if you've made further modifications. Remove the custom ad blocker rule(s) and the page will load as expected.