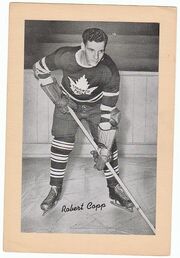 Bob Copp (born November 15, 1918 in Port Elgin, New Brunswick) was a Canadian ice hockey defenceman. He played in the NHL for the Toronto Maple Leafs.
He played for four years with Mount Allison University (1934 to 1938) and also played with some local senior teams. He then played two years for the University of Toronto and then two years for the senior Toronto Marlboros.
This led to the Toronto Maple Leafs calling him up for 38 games in 1942-43.
He then went to join the senior Ottawa Senators with whom he played until the team folded in 1955. He also played two more games for the Maple Leafs in 1950-51.
In the NHL Copp scored 3 goals and 9 assists in 40 games.
Ad blocker interference detected!
Wikia is a free-to-use site that makes money from advertising. We have a modified experience for viewers using ad blockers

Wikia is not accessible if you've made further modifications. Remove the custom ad blocker rule(s) and the page will load as expected.