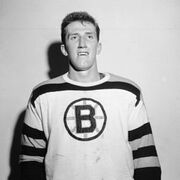 Robert Owen Beckett (born April 8, 1936 in Unionville, Ontario) is a former Canadian ice hockey centre. He played for the Boston Bruins.
He played junior hockey for the Galt Black Hawks and the Barrie Flyers from 1954 to 1956. He then turned pro for the Boston Bruins in 1956-57, as well as playing for the Quebec Aces and the Victoria Cougars.
Beckett played mostly in the minor pros but had three more stints with the Bruins in 1957-58, 1961-62, and 1963-64. In total he played 68 NHL games (all with the Bruins) and scored 7 goals and 6 assists. He retired in 1964.
External links
Edit
Ad blocker interference detected!
Wikia is a free-to-use site that makes money from advertising. We have a modified experience for viewers using ad blockers

Wikia is not accessible if you've made further modifications. Remove the custom ad blocker rule(s) and the page will load as expected.