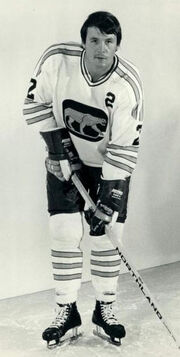 Bob "Butch" Barber (born August 31, 1943 in the Fairview, Alberta) is a retired Canadian professional ice hockey defenceman who played 78 games in the World Hockey Association (WHA) for the Chicago Cougars, New York Golden Blades, and New Jersey Knights. He scored 4 goals and 19 assists in the WHA.
He retired in 1977.
In 1977-78 he coached the San Diego Mariners of the Pacific Hockey League.
External links
Edit
Ad blocker interference detected!
Wikia is a free-to-use site that makes money from advertising. We have a modified experience for viewers using ad blockers

Wikia is not accessible if you've made further modifications. Remove the custom ad blocker rule(s) and the page will load as expected.