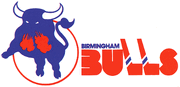 The Birmingham Bulls were a minor professional team in Birmingham, Alabama, They played only three games in the 1983-84 season in the Atlantic Coast Hockey League (ACHL).
They were formed in August 1983 after the Minnesota North Stars of the NHL had withdrawn supprt for the Birmingham South Stars of the Central Hockey League (CHL) at the end of the 1982-83 CHL season.
It was felt that the travel and player expenses for the team would be lower in the ACHL than in the CHL. The ACHL was rated lower than the CHL and their teams were closer to Birmingham.
The team could not keep the name "South Stars" and chose the name of the defunct World Hockey Association team instead.
Despite some strong efforts, the team could not get the necessary financing. The league allowed them to start off with their first three games (winning two) but then suspended the team.
Ad blocker interference detected!
Wikia is a free-to-use site that makes money from advertising. We have a modified experience for viewers using ad blockers

Wikia is not accessible if you've made further modifications. Remove the custom ad blocker rule(s) and the page will load as expected.