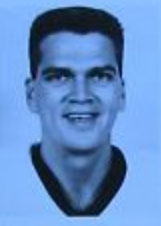 Billy O'Dwyer (Born - January 25, 1960 in South Boston, Massachusetts) is a retired American professional ice hockey forward who played 120 games in the National Hockey League for the Boston Bruins and Los Angeles Kings.
He played for Boston College from 1978 to 1982. The Los Angeles Kings chose him 157th overall in the 1980 NHL Entry Draft.
O'Dwyer turned pro with the Kings in 1982-83 but spent the bulk of the next three seasons with the New Haven Nighthawks of the American Hockey League. The Kings only called him up for 18 games in that stretch. Signing as a free agent with the New York Rangers made little difference, as O'Dwyer played all of the next two seasons with the Nighthawks.
In 1987 he signed with the Boston Bruins and finally played a whole season in the National Hockey League. However a knee injury cut short his 1988-89 season with the Bruins.
O'Dwyer signed as a free agent with the Kings in 1990. After two seasons of minor pro, he retired in 1992.
In his NHL career O'Dwyer scored 9 goals and 13 assists.
External links
Edit
Billy O'Dwyer's career stats at The Internet Hockey Database
Ad blocker interference detected!
Wikia is a free-to-use site that makes money from advertising. We have a modified experience for viewers using ad blockers

Wikia is not accessible if you've made further modifications. Remove the custom ad blocker rule(s) and the page will load as expected.