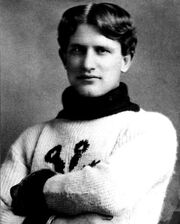 William George McGimsie (June 7, 1880 – October 28, 1968) was a Canadian ice hockey defenceman who played for the Rat Portage Thistles and their successor the Kenora Thistles. He was born in Woodville, Ontario.
In 1907, McGimsie helped Kenora become the smallest town to ever win the Stanley Cup by scoring a goal in the two game series against the Montreal Wanderers.
He was inducted into the Hockey Hall of Fame in 1962.
Ad blocker interference detected!
Wikia is a free-to-use site that makes money from advertising. We have a modified experience for viewers using ad blockers

Wikia is not accessible if you've made further modifications. Remove the custom ad blocker rule(s) and the page will load as expected.