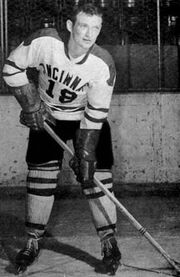 Bill Wylie (July 15, 1928, in Galt, Ontario - 1983) was a Canadian ice hockey centre who played one game for the New York Rangers of the National Hockey League.
He started out in Junior "B" with the Brantford Lions and in Junior "A" with the Galt Red Wings and the Galt Rockets. In 1948 Wylie went to the Quebec Aces (a Rangers' farm team) for two seasons. That earned him the one game callup to the Rangers in 1950-51.
From 1952-53 to 1956-57 he was a regular on the Vancouver Canucks. He then joined the senior Kitchener-Waterloo Dutchmen for four seasons until 1959-60.
In 1960-61 Wylie joined his hometown Galt Terriers as they won the Allan Cup. That earned the team (and Wylie) a trip to the 1962 World Championship where, representing Canada, the Terriers won the silver medal.
He was named the player-coach of the Terriers for the 1962-63 season which was also his last year of play.
Wylie won another Allan Cup in 1971 as he coached the Galt Terriers one more time.
Ad blocker interference detected!
Wikia is a free-to-use site that makes money from advertising. We have a modified experience for viewers using ad blockers

Wikia is not accessible if you've made further modifications. Remove the custom ad blocker rule(s) and the page will load as expected.