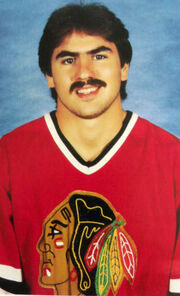 William Charles Watson (born March 30, 1964 in Pine Falls, Manitoba) is a retired ice hockey player. Watson won the Hobey Baker Award in 1985 while playing for the University of Minnesota Duluth. He would go to play professionally in the National Hockey League for the Chicago Blackhawks.
With Minnesota-Duluth, Watson was an all-star twice and led the league in scoring twice. The Chicago Blackhawks chose him 70th overall in the 1982 NHL Entry Draft.
He turned pro with Chicago in 1985-86, scoring 8 goals and 16 assists. In his second season he increased that to 13 goals and 19 assists, but the Blackhawks were not quite satisfied. Watson spent the bulk of the next two seasons with the Saginaw Hawks. By the end of that second season (1988–89) Watson realized that Chicago had no place for him and he retired.
In his NHL career Watson scored 23 goals and 36 assists in 115 games.
He was an assistant coach for the Western Michigan Broncos from 1995 to 1998 and then has held the same post for his alma mater Minnesota-Duluth since 2006.
External links
Edit
Ad blocker interference detected!
Wikia is a free-to-use site that makes money from advertising. We have a modified experience for viewers using ad blockers

Wikia is not accessible if you've made further modifications. Remove the custom ad blocker rule(s) and the page will load as expected.