Ad blocker interference detected!
Wikia is a free-to-use site that makes money from advertising. We have a modified experience for viewers using ad blockers

Wikia is not accessible if you've made further modifications. Remove the custom ad blocker rule(s) and the page will load as expected.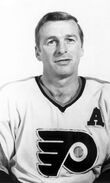 William Fraser Sutherland
He scored the first goal in Philadelphia Flyers history on October 11, 1967.
After several seasons in the minor leagues, Sutherland made a first appearance in the National Hockey League with the Montreal Canadiens in the 1963 Stanley Cup playoffs, playing two games for Montreal and registering zero points. He would go on to play four more seasons in the American Hockey League with the Quebec Aces before earning his chance in the NHL as a regular with the expansion Philadelphia Flyers, og which he scored the first goal in history on October 11 1967 . He also played for the Toronto Maple Leafs, the St. Louis Blues and the Detroit Red Wings, before finishing his career in the World Hockey Association with the Winnipeg Jets.
In 1979, Sutherland took on coaching duties with the Winnipeg Jets. He has been assistant coach with the Jets for a decade, and has been interim coach twice. He also have been assistant coach with the Maine Mariners for one season in 1989-90.
Career Statistics
Edit
 
 
Regular Season
 
Playoffs
Season
Team
League
Type
GP
W
L
T
Pts
Finish
GP
W
L
Results
1978-79
Winnipeg Jets
WHA
Assist
49
25
22
2
52
3rd
10
8
2
Won League
1979-80
Winnipeg Jets
NHL
Assist
80
20
49
11
51
5th Smythe
DNQ
1980-81
Winnipeg Jets
NHL
Assist
28
1
20
7
8
-
-
Head
28
5
20
3
13
-
-
Assoc
24
3
17
4
10
5th Smythe
DNQ
1981-82
Winnipeg Jets
NHL
Assist
80
33
33
14
80
2nd Norris
4
1
3
Lost Div Semi
1982-83
Winnipeg Jets
NHL
Assist
80
33
39
8
74
4th Smythe
3
0
3
Lost Div Semi
1983-84
Winnipeg Jets
NHL
Assist
80
31
38
11
73
4th Smythe
3
0
3
Lost Div Semi
1984-85
Winnipeg Jets
NHL
Assist
80
43
27
10
96
2nd Smythe
8
3
5
Lost Div Final
1985-86
Winnipeg Jets
NHL
Assist
80
26
47
7
59
3rd Smythe
3
0
3
Lost Div Semi
1986-87
Winnipeg Jets
NHL
Assist
80
40
32
8
88
3rd Smythe
10
4
6
Lost Div Final
1987-88
Winnipeg Jets
NHL
Assist
80
33
36
11
77
3rd Smythe
5
1
4
Lost Div Semi
1988-89
Winnipeg Jets
NHL
Assist
80
26
42
12
64
5th Smythe
DNQ
1989-90
Maine Mariners
AHL
Assist
80
31
38
11
73
5th North
DNQ
NHL Head Coaching Totals
28
5
20
3
13
-
0
0
0
-
Awards & Achievements
Edit
Turnbull Cup Manitoba Junior Hockey League Championship (1954)
MJHL Second All-Star Team (1955)
International Hockey League Championship (1957)
IHL Goal Scoring Leader (1958)
IHL Second All-Star Team (1958)
Quebec Hockey League Championship (1959)
Eastern Professional Hockey League Championship (1960)
Avco Cup World Hockey Association Championship (1979)
"Honoured Member" of the Manitoba Hockey Hall of Fame
External links
Edit