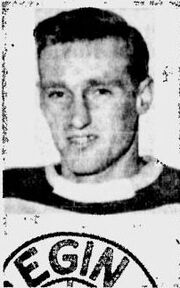 Bill Miller Kyle (b. December 23, 1924 in Dysart, Saskatchewan - d. April 17, 1968) was a professional ice hockey centre who played three games in the National Hockey League with the New York Rangers.
Kyle started out with Notre Dame College. He then played junior hockey for the Regina Commandos in 1942-43 and then served in the Canadian miltary from 1943 to 1945.
Kyle played senior hockey for the Portland Eagles and the Regina Caps from 1945 to 1951. The New York Rangers called him up for two scoreless games in 1949-50 and one game (when he scored three assists) in 1950-51. He played for the Sherbrooke Saints in 1951-52 and then returned to the Caps for a couple of seasons. Kyle then played one year for the senior Yorkton Terriers and one for the Western Hockey League's Brandon Regals.
Kyle sat out the 1956-57 and 1957-58 seasons. He then played three seasons for the Caps and retired in 1961.
References
Edit
Ad blocker interference detected!
Wikia is a free-to-use site that makes money from advertising. We have a modified experience for viewers using ad blockers

Wikia is not accessible if you've made further modifications. Remove the custom ad blocker rule(s) and the page will load as expected.