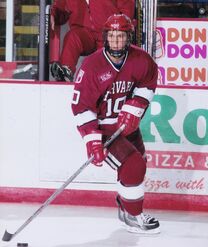 Bill Keenan (born April 15, 1986 in New York, New York) is a retired American professional ice hockey player. He was drafted by the Hull Olympiques of the QMJHL but opted to play college hockey at Harvard University. He played professionally for EHC Neuwied in the German Oberliga as well as Kramfors-Alliansen in Sweden's First Division and IF Sundsvall in Sweden's HockeyAllsvenskan.
Ad blocker interference detected!
Wikia is a free-to-use site that makes money from advertising. We have a modified experience for viewers using ad blockers

Wikia is not accessible if you've made further modifications. Remove the custom ad blocker rule(s) and the page will load as expected.