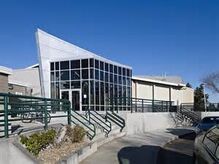 The Bill Hunter Arena is an indoor arena located in Edmonton, Alberta.  The facility has a 190' x 85' ice surface and has 1,600 seats and room for an additional 200 standing.
The facility was originally named Jasper Place.  The facility was renamed in honour of Bill Hunter, who was the first owner of the Edmonton Oilers.
The facility opened sometime during the 1960's and  under went a three year $5.8 million renovation project which ended with the arena reopening in February, 2010.
The facility is presently home to the Edmonton Mustangs of the Capital Junior Hockey League and many other youth hockey teams in the city of Edmonton.
Ad blocker interference detected!
Wikia is a free-to-use site that makes money from advertising. We have a modified experience for viewers using ad blockers

Wikia is not accessible if you've made further modifications. Remove the custom ad blocker rule(s) and the page will load as expected.