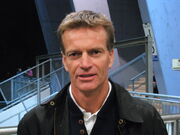 Bill Gilligan (Born Aug 5 1954 in Beverly, Massachusetts) is a retired hockey right winger. He played 154 games in the World Hockey Association (WHA) with the Cincinnati Stingers in the 1977-78 and 1978-79 seasons. He scored 27 goals and 40 assists.
He played for Brown University from 1974 to 1977. Gilligan was not drafted by any National Hockey League or WHA team.
After his WHA career, Gilligan played in Austria for several seasons.
He was later the head coach of Klagenfurt AC, SC Bern, and EHC Black Wings Linz. He was also the assistant coach of the UMass Minutemen from 1998 to 2004.
Ad blocker interference detected!
Wikia is a free-to-use site that makes money from advertising. We have a modified experience for viewers using ad blockers

Wikia is not accessible if you've made further modifications. Remove the custom ad blocker rule(s) and the page will load as expected.