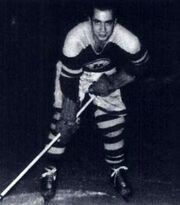 William Arnold Cupolo (b. January 8, 1924 in Niagara Falls, Ontario - d. December 7, 2005 in Niagara Falls, Ontario) is a retired Canadian ice hockey right winger. He played in the NHL for the Boston Bruins.
He played junior hockey for the Stratford Kroehlers from 1942 to 1944. The Boston Bruins, weakened by players going off to fight in World War II, brought him up in the 1944-45 season. Cupolo played in 47 games and scored 11 goals and 13 assists. However, the players returning from World War II took up all the roster spots in 1945-46 and Cupolo found himself in the minors. He never played in the NHL again.
Cupolo played in the minor pros until 1950 and then played mostly senior hockey until his retirement in 1954.
External links
Edit
Ad blocker interference detected!
Wikia is a free-to-use site that makes money from advertising. We have a modified experience for viewers using ad blockers

Wikia is not accessible if you've made further modifications. Remove the custom ad blocker rule(s) and the page will load as expected.