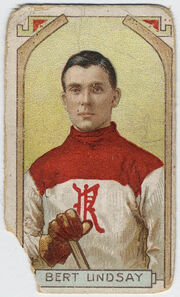 Bertrand "Bert" Lindsay (July 23, 1881 – November 11, 1960) was a professional goaltender in the National Hockey Association (NHA), Pacific Coast Hockey Association (PCHA) and National Hockey League (NHL). Born in Garafraxa County, Ontario, Bert Lindsay is the father of Hockey Hall Of Famer Ted Lindsay.
Playing career
Edit
Lindsay played for McGill University from 1903-06 and then mostly played for teams from Renfrew until 1911. The last two years were with the National Hockey Association team.
When the team disbanded, he joined the Victoria Aristocrats of the Pacific Coast Hockey Association for three seasons, before returning to the NHA with the Montreal Wanderers. After the Wanderers disbanded in 1917, he joined the Toronto Arenas for the 1918–19 NHL season.
External links
Edit
Ad blocker interference detected!
Wikia is a free-to-use site that makes money from advertising. We have a modified experience for viewers using ad blockers

Wikia is not accessible if you've made further modifications. Remove the custom ad blocker rule(s) and the page will load as expected.