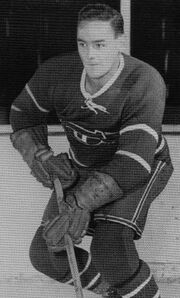 John Albert Hirschfeld (b. March 1, 1929 in Halifax, Nova Scotia - d. July 3, 1996) was a Canadian professional ice hockey forward who played 33 games in the National Hockey League for the Montreal Canadiens.
He was a high scorer with the junior Halifax St Marys team from 1946 to 1948. This drew the attention of the Montreal Canadiens, who brought him to the Montreal Junior Royals in 1948-49. In that season Hirschfeld scored 23 goals and 15 assists in 25 playoff games as the Royals won the Memorial Cup.
He turned pro with the Cincinnati Mohawks in 1949-50 and was called up for 13 games with the Canadiens. The following season Hirschfeld got into 20 Canadiens' games. In 1951 he was traded to the Detroit Red Wings for Gerry Couture but did not play any more NHL games. Hirschfeld played in the American Hockey League until 1954.
From 1954 until his retirement in 1962 Hirschfeld played senior hockey in eastern Canada. He coached the senior Halifax Tartans in 1962-63.
External links
Edit
Ad blocker interference detected!
Wikia is a free-to-use site that makes money from advertising. We have a modified experience for viewers using ad blockers

Wikia is not accessible if you've made further modifications. Remove the custom ad blocker rule(s) and the page will load as expected.