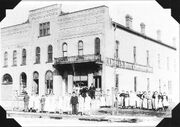 Berlin, Ontario was a city about 100 kilometres west of Toronto.
In 1916, at the height of World War I, the city changed its name to Kitchener, in honour of General Kitchener, the late head of the British Army. The hatred and resentment that other Canadians felt against the city named for the enemy capital was very strong.
(OHA Sr. 1892-1895, 1905-1908, 1915-1916)
(OHA Jr, 1895-1898, 1908-1912)
External Links
Edit
Ad blocker interference detected!
Wikia is a free-to-use site that makes money from advertising. We have a modified experience for viewers using ad blockers

Wikia is not accessible if you've made further modifications. Remove the custom ad blocker rule(s) and the page will load as expected.