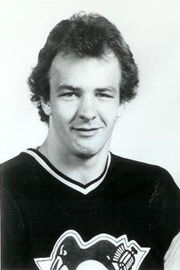 Bennett Wolf (born October 23, 1959 in Kitchener, Ontario) is a retired Canadian professional ice hockey defenceman who played 30 games in the National Hockey League for the Pittsburgh Penguins. He was known as a tough, bruising player.
He played junior hockey for the Kitchener Rangers and Toronto Marlboros in 1977-78 & 1978-79, earning over 300 penalty minutes in each season. The Pittsburgh Penguins chose him 52nd overall in the 1979 NHL Entry Draft.
Wolf turned pro with the Grand Rapids Owls in 1979-80, getting over 400 penalty minutes in that season. Over the next three seasons, Wolf played in 30 games for the Penguins, scoring one assist with 133 minutes in penalties.
He finished his career with three seasons for the Baltimore Skipjacks (1982 to 1984) and retired in 1984.
External links
Edit
Ad blocker interference detected!
Wikia is a free-to-use site that makes money from advertising. We have a modified experience for viewers using ad blockers

Wikia is not accessible if you've made further modifications. Remove the custom ad blocker rule(s) and the page will load as expected.