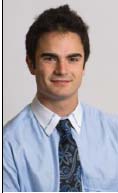 Ben Shutron (born June 14, 1988 in Orleans, Ontario) is a Canadian defenceman with the University of New Brunswick.
He played major junior hockey in the Ontario Hockey League with the Kingston Frontenacs, Kitchener Rangers, and the Windsor Spitfires from 2004 to 2009. He won the Memorial Cup with Windsor in 2009.
The Chicago Blackhawks chose him 95th overall in the 2006 NHL Entry Draft But could not make the team in several training camps.
Shutron joined the University of New Brusnwick in 2009. In September, 2010, he broke his leg in a pre-season game and may be out for the entire 2010-11 season.
Ad blocker interference detected!
Wikia is a free-to-use site that makes money from advertising. We have a modified experience for viewers using ad blockers

Wikia is not accessible if you've made further modifications. Remove the custom ad blocker rule(s) and the page will load as expected.