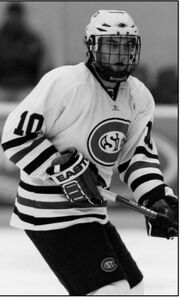 Ben Hanowski (born October 18, 1990, in Little Falls, Minnesota) is an American right winger playing for the St. Cloud State Huskies of the NCAA. He has been playing there since 2009.
Prior to that he was a star in high school hockey in Minnesota.
He was chosen 63rd overall by the Pittsburgh Penguins in the 2009 NHL Entry Draft.
Ad blocker interference detected!
Wikia is a free-to-use site that makes money from advertising. We have a modified experience for viewers using ad blockers

Wikia is not accessible if you've made further modifications. Remove the custom ad blocker rule(s) and the page will load as expected.