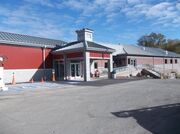 The
Belmont Arena
is an indoor arena located in
Kittanning, Pennsylvania
.  The rink is part of a larger facility which includes an olympic sized outdoor swimming and diving pool and a water slide.  The facility was opened in the late 1970's and was renovated in the early 2010's.
The facility is scheduled to become home of the House O'Hockey Mallers of the National College Prospects Hockey League in the fall of 2016.
Ad blocker interference detected!
Wikia is a free-to-use site that makes money from advertising. We have a modified experience for viewers using ad blockers

Wikia is not accessible if you've made further modifications. Remove the custom ad blocker rule(s) and the page will load as expected.