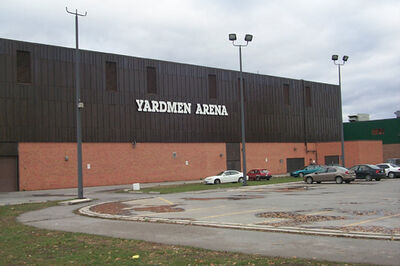 Belleville is a town in Ontario, Canada.
It has a population of about 50,000 and is located on the shore of the Bay of Quinte (part of Lake Ontario) in the eastern part of the province.
(OHA Jr. 1900-1902,
(OHA Jr, 1904-1916) replaced by 225th Battalion
(OHA Jr., 1917-1933) to OHA Jr. B
(OHA Sr. B, 1937-1939; 1940-1941)
(Ontario Provincial Junior A Hockey League, 1979-1981) town gets OHL franchise
(Ontario Hockey League, 1981-2015) franchise sold and relocated to Hamilton and renamed Hamilton Bulldogs
(OHA Sr. A, 1971-1973) renamed Eagles
(OHA Sr. B, 1937-1939)
OHA Sr. A, 1950-1951)
Yardmen Arena (part of Quinte Sports Centre which also includes Wally Dever, Family Dental, & B Rinks)
Memorial Arena
Dick Ellis Rink
Champions
Edit
World ChampionsEdit
External Links
Edit
Ad blocker interference detected!
Wikia is a free-to-use site that makes money from advertising. We have a modified experience for viewers using ad blockers

Wikia is not accessible if you've made further modifications. Remove the custom ad blocker rule(s) and the page will load as expected.