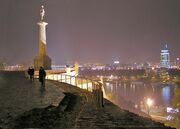 Belgrade is a city of about 1,600,000 in Southeastern Europe.
It was the capital of Serbia prior to 1918. After that it became the capital of the new nation of Yugoslavia.
It became the capital of Serbia again in 2006 when that nation became independent.
Hockey in Belgrade
Edit
External Links
Edit
Ad blocker interference detected!
Wikia is a free-to-use site that makes money from advertising. We have a modified experience for viewers using ad blockers

Wikia is not accessible if you've made further modifications. Remove the custom ad blocker rule(s) and the page will load as expected.