The Becker Hawks are a Men's Division III team in ECAC Northeast.
The team is based out of the New England Sports Center in Marlborough, Massachusetts, which is about 15 miles (24km) off campus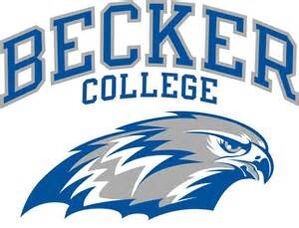 The team played as a division III Independent for the 2006-07 season building a 2-18-2 record in its first season.  The school held its first Becker Invitational in November of 2006
The team became a member of ECAC Northeast for the 2007-08 season.  The team will join the Commonwealth Coast Conference as an associate member for men's ice hockey when the ECAC Northeast is phased out as the CCC has 7 members that sponsor men's ice hockey and thus enabling the conference to get an automatic bid to the NCAA Divsion III tournament.