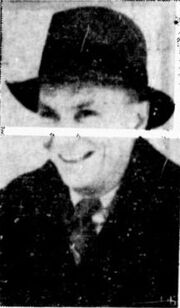 William Beattie Ramsay (December 12, 1895 in Lumsden, Saskatchewan – September 30, 1952) was a Canadian ice hockey player who competed in the 1924 Winter Olympics. He was a member of the Canadian ice hockey team, which won the gold medal.
Ramsay had enormous success in his career. He played junior for the University of Toronto, winning the Ontario Hockey Association title in 1915 (the Memorial Cup only started in 1919). He then served in the air force in World War I.
He returned from the war and joined the senior University of Toronto team in 1919-20. That team lost the 1919-20 Allan Cup final and then won the Allan Cup the following season. His team also won the senior intercollegiate title in each year that Beattie played (1919–20, 1920–21, and 1921–22).
In 1922-23 Ramsay joined the Toronto Granites and won another Allan Cup. That win led the Granites to the 1924 Olympics.
After the Olympics, Beattie coached Princeton University for three years. He made a comeback in 1927-28, joining the Toronto Maple Leafs. He scored 2 assists in 43 games. He then retired.
Ramsay then turned to coaching in the Saskatchewan Senior Hockey League:
External links
Edit
Ad blocker interference detected!
Wikia is a free-to-use site that makes money from advertising. We have a modified experience for viewers using ad blockers

Wikia is not accessible if you've made further modifications. Remove the custom ad blocker rule(s) and the page will load as expected.