Ad blocker interference detected!
Wikia is a free-to-use site that makes money from advertising. We have a modified experience for viewers using ad blockers

Wikia is not accessible if you've made further modifications. Remove the custom ad blocker rule(s) and the page will load as expected.
Barrie is located in the central part of Southern Ontario in Canada. It is about 80 kilometers north of Toronto on the shore of Lake Simcoe. It has a population of approximately 130,000.
There have been a large number of hockey teams based there over the years. including the junior and senior Barrie Flyers and the junior B and major junior Barrie Colts.
OHA Sr., 1894-1895; 1903-1904; 1905-1906)
OHA Sr. B, 1947-1948)
(OHA Jr., 1897-1900; 1902-1905; 1907-1912; 1914-1915; 1916-1920; 1921-1922; 1923-1931; 1932-1933)
(Central Junior A Hockey League, 1992-1993) joined OPJHL
(Ontario Provincial Junior Hockey League, 1993-1995) granted OHL expansion team
(Ontario Hockey League, 1995-present)
(Ontario Hockey Association Jr. A, 1945-1960) moved to Niagara Falls
(OHA Sr. A, 1966-1979) join Georgian Bay Intermediate A Hockey League
(OHA Sr. A, 1983-1984)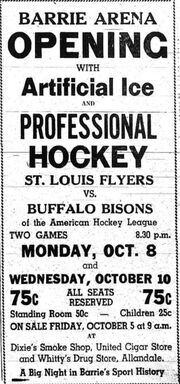 Allandale Recreation Centre
Circle at Centre Rink
East Bayfield Arena
Eastview Arena
Holly Recreation Centre
National Training Rinks
External Links
Edit