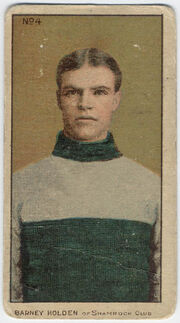 Barney Holden (March 21, 1881 – October 27, 1948) was a Canadian professional ice hockey player who played 120 games in various professional and amateur leagues, including the National Hockey Association and International Professional Hockey League. Amongst the teams he for played with were the Montreal Shamrocks and Quebec Bulldogs. He was born born in Winnipeg, Manitoba.
Defense – Cover Point, Rover
6', 200 lbs
Born: March 21, 1881 - Winnipeg, Manitoba
Not only was he one of the very first professional hockey players in history, but he scored the first goal, in the first game, of the very first professional hockey league game on December 9, 1904 in the Pittsburgh Duquesne Gardens.
Ad blocker interference detected!
Wikia is a free-to-use site that makes money from advertising. We have a modified experience for viewers using ad blockers

Wikia is not accessible if you've made further modifications. Remove the custom ad blocker rule(s) and the page will load as expected.