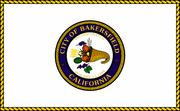 Bakersfield is a city in south-central California, United States.
It has a population of over 325,000.
(ECHL, 2003-2015) become AHL affiliate of Edmonton Oilers; ECHL affiliation to Norfolk, Virginia
(AHL, 2015-Present)
Southern California Hockey Association, 1940-1941) league renamed SCHL
Southern California Hockey League, 1941-1942) folded
Pacific Southwest Hockey League, ????-1995) join WCHL as Fog
Previously known as
Civic Auditorium (1962 - 1980) renamed after first expansion
Bakersfield Convention Center (1980 - 1998) renamed after second expansion
Centennial Garden & Convention Center (1998 - 2005) naming righs sold
Bakersfield Ice Sports Center
Rollerama (Inline)
Rollerama West (Inline)
External Links
Edit
Ad blocker interference detected!
Wikia is a free-to-use site that makes money from advertising. We have a modified experience for viewers using ad blockers

Wikia is not accessible if you've made further modifications. Remove the custom ad blocker rule(s) and the page will load as expected.