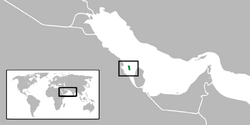 Bahrain is a nation in the Middle East in western Asia. It is an island in the Persian Gulf.
Its population is almost 800,000 and its capital is Manama.
Bahrain

Info

Rinks

Players

Referees

Population

791,000

Indoor

1

Total

--

Male

--

Capital

Manama

Outdoor

0

Male

--

Female

0

IIHF Since

Not a member

Junior

--

Female

--

There is an ice rink with a small hockey league. 4 teams are Sharks, Buds, Rangers, and Bulldogs. They applied for an IIHF membership. There were 8 teams in the 1980s, Bahrain has sent teams to tournaments around Asia. They won tournaments in Dubai in 1995 and 1996 and finished as runner ups in 1994.
National teams
Edit
Ad blocker interference detected!
Wikia is a free-to-use site that makes money from advertising. We have a modified experience for viewers using ad blockers

Wikia is not accessible if you've made further modifications. Remove the custom ad blocker rule(s) and the page will load as expected.