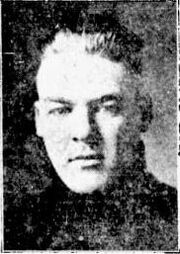 James "Babe, Chunky" Donnelly (born December 22, 1895, date of death unknown) was a professional ice hockey player who played 34 games in the National Hockey League and played for the Montreal Maroons. He was born in Sault Ste. Marie, Ontario.
He played senior hockey for the Hamilton 227th Battalion in 1916-17 before spending three years in the Canadian miltary in World War I.
After returning from the military, Donnelly played one season (1919-20) for the Edmonton Eskimos in the Alberta Big Four League. He then joined his hometown senior Sault Ste. Marie Greyhounds for six years, winning the Allan Cup in 1924.
Donnelly signed as a free agent with the Montreal Maroons in 1926 and played in 34 games for them in 1926-27, scoring one assist. From then until 1932 he played in minor pro leagues. In 1932-33 he joined the senior Falconbridge Falcons. In 1935-36 and 1936-37 Donnelly was a player-coach for the Streatham Redskins.
He retired in 1937.
External links
Edit
Ad blocker interference detected!
Wikia is a free-to-use site that makes money from advertising. We have a modified experience for viewers using ad blockers

Wikia is not accessible if you've made further modifications. Remove the custom ad blocker rule(s) and the page will load as expected.