Ad blocker interference detected!
Wikia is a free-to-use site that makes money from advertising. We have a modified experience for viewers using ad blockers

Wikia is not accessible if you've made further modifications. Remove the custom ad blocker rule(s) and the page will load as expected.


Welcome to the Austrian hockey portal
Your reference for Austrian hockey
There are 58 articles related to this portal.
Austrian Hockey Portal
Featured article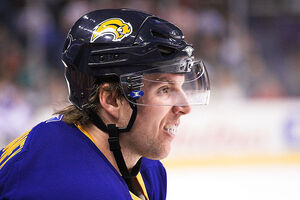 Winger Thomas Vanek is often regarded as one of the best Austrian-born players in the game. Native of Vienna, Vanek was born to Czech father Zdeněk (himself a pro hockey player with EC Zell am See) and Slovak mother Jarmila and grew up in Graz, where he began playing hockey. He moved at a young age to North America to improve his play - at 14, he flew to Canada to play midget AA, where he turned heads. In 1999, Vanek joined the Rochester Junior Americans of the North American Hockey League. After 14 games and 10 points, Vanek was promoted to the Sioux Falls Stampede, where he played three years, the last of which seeing him score 46 goals and tallied 91 points in 53 games.When Vanek left college, the National Hockey League was lock-outed, which retarded his entry into the big league, where he had been drafted by the Buffalo Sabres in 2003. He joined the Rochester Americans and enjoyed a good first professional season, scoring 42 times and adding 26 assists in 74 games, good for second place among the team scorers, behind Chris Taylor. He could make his NHL debuts the following season. The transition was not easy in the first couple of weeks, but he eventually retrieved his scoring abilities and finished his rookie season with 25 goals and 23 assists. From then on, he litterally exploded in his second season, scoring an excellent 43 goals and 41 assists in 82 games. He was instrumental in the Sabres' long playoffs run that season.

From this point on however, Vanek's totals haven't stopped decreasing the following three seasons, with two 64 points and one 53 points efforts. While he reached the 40 goals plateau again in 2008-09, he could only get 28 goals (and 25 assists) in 71 games in a 2009-10 plagued with injuries.

Vanek represented Austria in international competitions in many occasions, including two World Championships (2004 and 2008).
Austrian hockey category tree
This is a tree of all the categories included within the Austrian hockey project:
|
Articles related to this portal should bear the label {{Austrian hockey portal}}