Austria men's national ice hockey team
Talk

0
Share
Ad blocker interference detected!
Wikia is a free-to-use site that makes money from advertising. We have a modified experience for viewers using ad blockers

Wikia is not accessible if you've made further modifications. Remove the custom ad blocker rule(s) and the page will load as expected.
The Austrian men's national hockey team is the national ice hockey team for Austria. The team is controlled by Österreichischer Eishockeyverband. As of 2008 the Austrian team is ranked 16th in the IIHF World Rankings. Austria has not won a medal in a major tournament since 1947, and has not broken 10th place since 1994. Austria currently has 8,799 registered players (0.1% of the total population). Their head coach is Giacinto "Jim" Boni.
Olympic record
Edit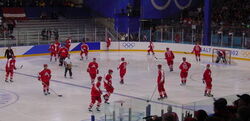 European Championship record
Edit
1910-1911 Did not participate
1912- Won bronze medal
1913- Finished in 4th place
1914-1924 Did not participate
1925- Won silver medal
1926- Won bronze medal
1927- Won gold medal
1929- Won bronze medal
1932- Won silver medal
World Championship record
Edit
1930- Finished in 4th place
1931- Won bronze medal
1933- Finished in 4th place
1934- Finished in 7th place
1935- Finished in 6th place
1937- Did not participate
1938- Finished tied in 10th place
1939- Did not participate
1947- Won bronze medal
1949- Finished in 6th place
1950- Did not participate
1951- Finished in 11th place (4th in "Pool B")
1953- Finished in 11th place (2nd in "Pool B")
1954- Finished in 6th place (3rd in "Pool B")
1955- Finished in 11th place (2nd in "Pool B")
1957- Finished in 7th place
1958- Did not participate
1959- Finished in 15th place (3rd in "Pool B")
1961- Finished in 14th place (6th in "Pool B")
1962- Finished in 10th place (2nd in "Pool B")
1963- Finished in 16th place (Won "Pool C")
1965- Finished in 13th place (5th in "Pool B")
1966- Finished in 13th place (5th in "Pool B")
1967- Finished in 14th place (6th in "Pool B")
1969- Finished in 13th place (7th in "Pool B")
1970- Finished in 15th place (Won "Pool C")
1971- Finished in 13th place (7th in "Pool B")
1972- Finished in 14th place (Won "Pool C")
1973- Finished in 12th place (6th in "Pool B")
1974- Finished in 14th place (8th in "Pool B")
1975- Finished in 17th place (3rd in "Pool C")
1976- Finished in 17th place (Won "Pool C")
1977- Finished in 17th place (9th in "Pool B")
1978- Finished in 18th place (2nd in "Pool C")
1979- Finished in 15th place (7th in "Pool B")
1981- Finished in 17th place (Won "Pool C")
1982- Finished in 10th place (2nd in "Pool B")
1983- Finished in 11th place (3rd in "Pool B")
1985- Finished in 12th place (4th in "Pool B")
1986- Finished in 14th place (6th in "Pool B")
1987- Finished in 11th place (3rd in "Pool B")
1989- Finished in 14th place (6th in "Pool B")
1990- Finished in 11th place (3rd in "Pool B")
1991- Finished in 13th place (5th in "Pool B")
1992- Finished in 13th place (Won "Pool B")
1993- Finished in 11th place
1994- Finished in 8th place
1995- Finished in 11th place
1996- Finished in 12th place
1997- Finished in 16th place (4th in "Pool B")
1998- Finished in 15th place
1999- Finished in 10th place
2000- Finished in 13th place
2001- Finished in 11th place
2002- Finished in 12th place
2003- Finished in 10th place
2004- Finished in 11th place
2005- Finished in 16th place
2006- Finished in 18th place (Won Division I, Group B)
2007- Finished in 15th place (Relegated to Division I)
2008- Finished in 17th place (Won Division I, Group A)
2009- Finished in 14th place (Relegated to Division I)
2010- Finished in 17th place (Won Division I, Group A)
External links
Edit