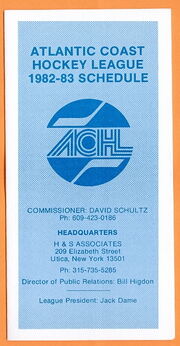 For the other league of the same name, see the Atlantic Coast Hockey League (2002).
The Atlantic Coast Hockey League was a minor league hockey organization that operated between 1981 and 1987. Beginning in 1988 the league merged with the All-American Hockey League to create the East Coast Hockey League (today the ECHL). The Wheeling Nailers of the current ECHL is derived from this league, as are the Victoria Salmon Kings. Jim Riggs (Commissioner) was the commissioner.
1981-87 Teams
Edit
Regular Season Champions
Edit
Bob Paine Trophy winners
Edit
Ad blocker interference detected!
Wikia is a free-to-use site that makes money from advertising. We have a modified experience for viewers using ad blockers

Wikia is not accessible if you've made further modifications. Remove the custom ad blocker rule(s) and the page will load as expected.