Ad blocker interference detected!
Wikia is a free-to-use site that makes money from advertising. We have a modified experience for viewers using ad blockers

Wikia is not accessible if you've made further modifications. Remove the custom ad blocker rule(s) and the page will load as expected.
The Atlanta Gladiators are a minor league ice hockey team playing at the Arena at Gwinnett Center in Duluth, Georgia, United States. The team was originally the Mobile Mysticks who played in Mobile, Alabama from 1995 to 2002 and moved to Gwinnett County in 2003. The Gladiators are affiliated with Atlanta Thrashers of the NHL and the Chicago Wolves of the AHL. The Gladiators play in the Southern Division of the American Conference and have been one of the top teams in the ECHL since the franchise rights were transferred from Mobile to Duluth, appearing in the playoffs in all six seasons of their stint in Metropolitan Atlanta. The Gladiators made an appearance in the 2006 Kelly Cup Finals, losing to the Alaska Aces in five games. On September 9, 2015 the team announced they were changing their name to the Atlanta Gladiators to allow fans to identify the team as the metro Atlanta area team not just Gwinnett's.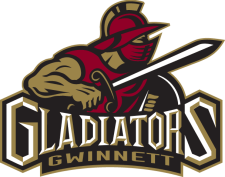 Season-by-season record
Edit
Regular Season
Edit
Season
Games
Won
Lost
Tied
OTL
SOL
Points
Goals
for
Goals
against
Standing
Average attendance
2003–04
72
42
22
8
—
—
92
248
193
3rd, Central
5,034
2004–05
72
40
24
—
1
7
88
241
202
3rd, South
6,045
2005–06
72
50
15
—
0
7
107
304
208
1st, South
5,524
2006–07
72
41
24
—
5
2
89
289
256
3rd, South
5,654
2007–08
72
44
23
—
2
3
93
247
198
3rd, South
5,656
2008–09
72
31
35
—
1
5
68
214
246
4th, South
5,559
2009–10
72
31
33
—
5
3
70
243
277
4th, South
5,166
2010–11
72
30
34
—
3
5
68
203
250
4th, South
5,128
2011–12
72
41
20
—
7
4
93
214
200
1st, South
5,161[1]
2012–13
72
43
26
—
2
1
89
211
191
1st, South
5,437
2013–14
72
29
38
—
3
2
63
203
227
5th, South
5,171
2014–15
72
20
45
—
3
4
47
174
263
7th, East
4,927
2015–16
72
34
31
—
5
2
75
189
224
4th, South
4,943
Season
Wild Card Round
Conf. 1st round (2006–08)§
1st round
Conf. Quaterfinals
2nd round
Conf. Semifinals
3rd round
Conf. Finals
Kelly Cup Finals
2004
No WC game in Western Conf.
W, 3–2, MIS
W, 3–1, LOU
L, 1–3, IDA
—
2005
—
W, 3–1, MIS
L, 1–3, CHR
—
—
2006
BYE
W, 3–0, SC
W, 3–1, FLA
W, 4–1, TOL
L, 1–4, AK
2007
BYE
L, 1–3, TX
—
—
—
2008
W, 3–0, CHR
L, 2–3, SC
—
—
—
2009
—
L, 1–4, FLA
—
—
—
2010
—
Out of playoffs
2011
—
Out of playoffs
2012
—
L, 1–3, SC
—
—
—
2013
—
W, 4–0, SC
L, 2–4, CIN
—
—
2014
—
Out of playoffs
2015
—
Out of playoffs
2016
—
Out of playoffs
Memorable players
Edit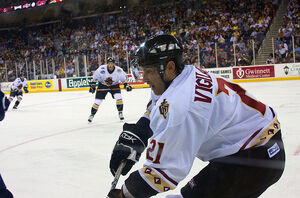 Played In NHL
Edit
External links
Edit
Cite error: <ref> tags exist, but no <references/> tag was found