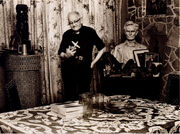 Athol Murray
Born
January 9, 1892
Toronto, Ontario
Died
December 15 1975 (aged 83)

Awards
Order of Canada
Monsignor Athol Murray, Order of Canada (January 9, 1892 – December 15, 1975) was a Canadian priest and educator.
Born in Toronto, Ontario, he was educated at Loyola College, St. Michaels College, St. Hyacinthe College, and Université Laval.
He was ordained in 1918 and was sent to Regina in 1922. He started an athletic club for boys and was appointed St. Augustine's parish in Wilcox, Saskatchewan in 1927.
Murray founded Notre Dame of the Prairies in 1927, and was the inspirational force behind the famous Notre Dame Hounds hockey team. Known as Père, he would never refuse a deserving student an education - even if that meant tuition was paid in potatoes and wheat rather than dollars and cents. Leading the college until his death, he influenced generations of Canadians and the development of Canadian hockey. Said Père Murray, "I love God, Canada and hockey -- not always in that order."
The ice hockey team is known as the Notre Dame Hounds. More than 100 former Hounds have been drafted by National Hockey League including Wendel Clark, Curtis Joseph, Rod Brind'Amour, Brad Richards and Vincent Lecavalier. The Saskatchewan Hockey Association's Athol Murray Trophy is named in his honour.
In 1968, he was made an Officer of the Order of Canada "for his contributions as President of the College of Notre Dame of Saskatchewan Inc. from which thousands of Canadian and foreign students from poorer families have graduated". [1]
In 1972, he was inducted as a hockey builder into the Canada's Sports Hall of Fame.
In 1998, he was posthumously inducted into the Hockey Hall of Fame as a builder.
A street in Regina Saskatchewan is named after him
A historic plaque was installed at his family's Toronto home from 1905 - 1921, 445 Euclid Avenue [2]
References
Edit
External links
Edit
Ad blocker interference detected!
Wikia is a free-to-use site that makes money from advertising. We have a modified experience for viewers using ad blockers

Wikia is not accessible if you've made further modifications. Remove the custom ad blocker rule(s) and the page will load as expected.