The Ashburn Xtreme are a youth hockey team based in Ashburn, Virginia. Founded in 2002, the Ashburn Xtreme are members of the Chesapeake Bay Hockey League (CBHL) and compete in USA Hockey's Tier II classification[1]. Currently, the program offers birth year teams for all ages of youth travel hockey (Mite through Midget U-18 and 1 mixed birth year team at Squirt to U18)[2]. The Ashburn Xtreme practice and play at the Ashburn Ice House, also located in Ashburn[3].
The Ashburn Xtreme Hockey Club is a travel-only program focused on skill development and high-level competition. The Club will inspire a commitment to sportsmanship within the individual, the team and the community. Exceptional coaching, hockey education and a comprehensive on- and off-ice training program will be the trademarks of this program.[4]
Ashburn Ice House
Edit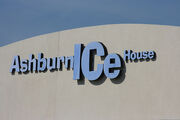 Founded in 1998[5], the Ashburn Ice House located in Ashburn,Virginia is home to the Ashburn Xtreme. The building features two NHL size ice rinks, Professional style locker rooms, a pro shop, an Italian restaurant called Pomodoro's, a Mezzanine/viewing lounge, a Fitness Room, and an athletic training facility known as Inside Edge[6].
Club Accomplishments
Edit
From 2002 to 2014 the Xtreme has sent 19 teams to the USA Hockey National Championships, capturing a USA Hockey U-18 AA National title in 2012-13. Locally they have won 43 CBHL regular season crowns, 37 CBHL Playoff Championships, and 12 Virginia State championships. The Xtreme have also sent seventeen teams to the USA Hockey Southeastern District tournament[7].
References
Edit
External Links
Edit
Ad blocker interference detected!
Wikia is a free-to-use site that makes money from advertising. We have a modified experience for viewers using ad blockers

Wikia is not accessible if you've made further modifications. Remove the custom ad blocker rule(s) and the page will load as expected.