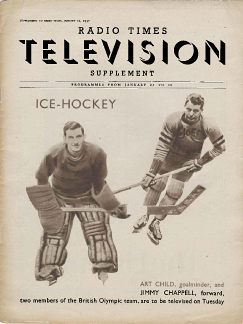 Arthur John "Art" Child (September 15, 1916 – c. 1996) was a British goaltender who played professional ice hockey in the United Kingdom. He was the backup goaltender for the British national ice hockey team which won gold at the 1936 Winter Olympics. Child himself did not take to the ice during the tournament and was not awarded a gold medal. He is a member of the British Ice Hockey Hall of Fame.
References
Edit
British Ice Hockey Hall of Fame entry
Ad blocker interference detected!
Wikia is a free-to-use site that makes money from advertising. We have a modified experience for viewers using ad blockers

Wikia is not accessible if you've made further modifications. Remove the custom ad blocker rule(s) and the page will load as expected.