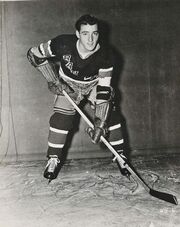 Art Strobel (born November 28, 1922 in Regina, Saskatchewan - October 11, 1991) was a professional ice hockey left winger who played seven games in the National Hockey League. He played with the New York Rangers. Strobel's son, Eric Strobel, won a gold medal playing for the 1980 US Olympic Hockey Team.
He played junior hockey with three different teams in Regina from 1941 to 1943. The New York Rangers brought him to New York City in 1943 to play for the Rovers. He was also called up for seven games with the NHL team.
Strobel then played for the Hershey Bears, Minneapolis Millers, and the Portland Buckaroos from 1945 to 1950. He then retired.
In 1952 he made a comeback with the Rochester Mustangs and played for them until his retirement in 1958.
References
Edit
Ad blocker interference detected!
Wikia is a free-to-use site that makes money from advertising. We have a modified experience for viewers using ad blockers

Wikia is not accessible if you've made further modifications. Remove the custom ad blocker rule(s) and the page will load as expected.