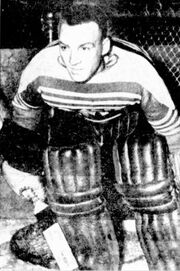 Art Rice-Jones (Born - December 12, 1912 in Coronation, Alberta, Died - November 12, 1989) was a Canadian ice hockey goaltender who played for the 1935 World Champion Winnipeg Monarchs who won the 1935 World Championship at Davos, Switzerland.
Awards and achievements
Edit
Turnbull Cup MJHL Championships (1931 & 1932)
Memorial Cup Championship (1931)
IIHF World Championship (1935)
"Honoured Member" of the Manitoba Hockey Hall of Fame
Ad blocker interference detected!
Wikia is a free-to-use site that makes money from advertising. We have a modified experience for viewers using ad blockers

Wikia is not accessible if you've made further modifications. Remove the custom ad blocker rule(s) and the page will load as expected.