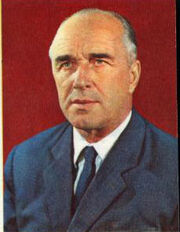 Arkady Ivanovich Chernyshev (Russian: Аркадий Иванович Чернышёв; March 16, 1914 in Moscow, Russia – October 22, 1992) was a Soviet ice hockey and soccer player, who played in the Soviet Hockey League, also a coach for Dynamo Moscow club and a distinguished coach for Soviet Union national ice hockey team.
Chernyshev served as «Dynamo» Moscow club coach, winning twice USSR Champion title (1947, 1954), and also as USSR National Team coaches from 1948 till 1972, guiding the team to eleven World Champion titles (1954, 1956, 1963—1971), eleven Europe Champion titles (1958—1960, 1963—1970) and four Olympic Champion titles (1956, 1964, 1968, 1972).
He was inducted into the Russian and Soviet Hockey Hall of Fame in 1948 and the International Ice Hockey Federation Hall of Fame in 1999.
Kontinental Hockey League has a division bearing his name.
External links
Edit
Ad blocker interference detected!
Wikia is a free-to-use site that makes money from advertising. We have a modified experience for viewers using ad blockers

Wikia is not accessible if you've made further modifications. Remove the custom ad blocker rule(s) and the page will load as expected.