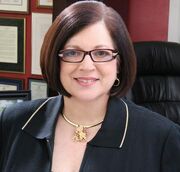 Anita Zucker was the first female Governor (or governess) of the Hudson's Bay Company (HBC), which was first incorporated in 1670, and also an owner of the ECHL's South Carolina Stingrays. She is also a committed philanthropist.
Personal life
Edit
She is the widow of Governor and CEO of HBC, Jerry Zucker, taking over following her husband's death. She has 3 children: Jonathan Zucker, Andrea Muzin and Jeffrey Zucker. They live in Charleston, South Carolina.
Ad blocker interference detected!
Wikia is a free-to-use site that makes money from advertising. We have a modified experience for viewers using ad blockers

Wikia is not accessible if you've made further modifications. Remove the custom ad blocker rule(s) and the page will load as expected.