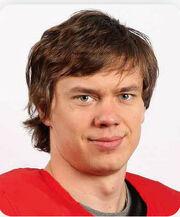 Andrei Leonidovich Stas (Russian: Андрей Леонидович Стась) (born 18 October 1988 in Minsk, Byelorussian SSR) is a Belarusian professional ice hockey forward with Dynamo Minsk. He began playing with Yunost Minsk in 2003 and later joined Keramin Minsk of the Belarusian Extraliga. During the 2008–09 season he made his debut with Dynamo.
Stas was selected for the Belarus national men's ice hockey team in the 2010 Winter Olympics. He previously represented Belarus at the 2005 and 2006 IIHF World U18 Championships, the 2007 and 2008 World Junior Championship, the 2009 Ice Hockey World Championships, the 2010 Olympics, and the 2010 World Championship.
External links
Edit
Ad blocker interference detected!
Wikia is a free-to-use site that makes money from advertising. We have a modified experience for viewers using ad blockers

Wikia is not accessible if you've made further modifications. Remove the custom ad blocker rule(s) and the page will load as expected.