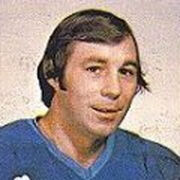 Joseph Charles André Hinse (born April 19, 1945 in Trois-Rivières, Quebec) is a retired professional ice hockey player who played four games in the National Hockey League and 256 games in the World Hockey Association. He played for the Toronto Maple Leafs, Phoenix Roadrunners and Houston Aeros.
He played junior hockey for the Shawinigan Cataractes and the Trois Rivieres Reds from 1962 to 1965. He turned pro with the Charlotte Checkers in 1965 and signed as a free agent with the Toronto Maple Leafs in 1966. Hinse saw action in four games with the Leafs in 1967-68 but otherwise played for the Tulsa Oilers and the Phoenix Roadrunnersuntil 1973.
In that year Hinse jumped to the Houston Aeros of the World Hockey Association (WHA). He scored 24 goals and 56 assists helping the Aeros win the Avco World Trophy. He scored 39 goals in 1974-75 and 35 goals in 1975-76 for the Aeros. In 1976-77 his scoring and ice time went down sharply and he was traded to the Phoenix Roadrunners. Hinse retired at the end of the season.
In the WHA, Hinse scored 102 goals and 151 assists in 256 games. In the WHA playoffs he scored 15 goals and 16 assists in 42 games.
References
Edit
Ad blocker interference detected!
Wikia is a free-to-use site that makes money from advertising. We have a modified experience for viewers using ad blockers

Wikia is not accessible if you've made further modifications. Remove the custom ad blocker rule(s) and the page will load as expected.